China's National Sword policy has been received with mixed reactions in the industry, with some concerns about the economic viability of the international recycling trade.
However, Christian McLean, Applied Machinery's new Recycling Division Consulting General Manager, is one of those who see China's policy as an opportunity. Christian believes the industry can capitalise on these new requirements by investing in equipment capable of generating cleaner value-added materials, building up the secondary reprocessing market in the process.
When China began imposing restrictions on the importation of recycled materials and only accepting goods with a contamination rate of 0.5 percent or less, Australian recyclers were forced to reassess their processing capabilities.
With more than 17 years of experience in the environmental, and waste and recycling sectors, Christian has developed a passion for sustained operational cost improvements that provide positive environmental outcomes.
This has inspired Christian to view the China situation through "green eyes", seeing the policy as a chance to create a circular economy in Australia.
"China has decided to protect its environment and improve its living standards, which is fantastic and creates a great opportunity for Australia to start developing new systems and waste processing infrastructure," he says.
Christian entered into a collaborative partnership with Applied Machinery, who then brought him on to support unprecedented demand in NSW and Queensland for its recycling solutions.
With his extensive knowledge in plastic processing, recycling and manufacturing, Christian will help with project management, process design and solutions implementation within Applied Machinery's recycling division.
He plans to use his expertise to guide customers in making informed decisions, not only with their machinery purchases but also assisting them to plan for production agility and lean design thinking to maximise future productivity.
"We want to provide affordable, high-value equipment solutions to our customers which enable them to capitalise on current and future market growth, while also being mindful of their responsibilities and regulatory obligations as waste processors," he says.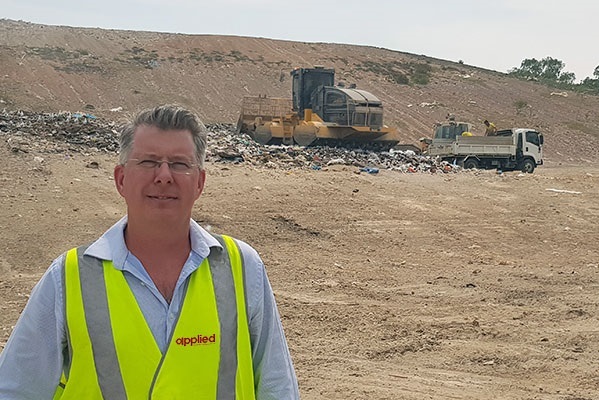 Together with Applied Machinery, Christian hopes to support the secondary Australian reprocessing market to achieve the rapid improvements needed to re-enable the international trade of recyclable resources and value-added products.
"We don't want people buying gold-plated equipment that is poorly utilised, we want it to be fit for purpose and value for money. Recycling is not a simple process. The more detailed thought you can put into it up front before committing capital, the better, but now is definitely the time to commit," Christian says.
"The support we offer after installation and commissioning and the network connections we provide for supply and offtake of material means we add a lot of value to the customer. We're not just selling them equipment and saying goodbye."
Christian hopes his work with Applied Machinery will lead to a wide scale implementation of affordable, high-value equipment across a broad cross-section of the sector.
"The tyranny of distance, reliability of available tonnes and the variable price of the finished recyclate are marginal to make a strong business case for most of the high-end European or Japanese equipment.
"Reliable, value-for-money gear to get things rolling is what is needed, but most important is to receive government support where available, and get things happening now," he says.
Tackling the issues raised by China is key to Christian's new position, one he believes requires a triple bottom line approach, a principle he developed and brings to Applied Machinery.
According to Christian, the three bottom lines are profitability, the planet and its people. He will be working with Applied Machinery to help Australian businesses achieve all three.
Profitability, he pointed out, is an obvious one, as people need to be making money. The planet is more complex, as there is the need to acknowledge the rapid consumption of limited resources and think about the circular economy. He says this will require regenerating those resources into renewables and using less of them in the first place.
The third principle, the people, refers to his belief that business and environmental outcomes need to incorporate community participation.
"We try to encourage industry to utilise local community organisations and small businesses.
"If there's a local operator running a recycling service, why not give the work to them? If social enterprise or disability services business can assist add value to the recyclables, let's engage them to help," he says.
Christian believes that the integration of all three bottom lines, will help enable growth in the industry while addressing issues surrounding long-term enterprise sustainability.
The Australian industry can also grow by investing waste levy capital directly into recycling projects. Christian says that while waste levies are an effective way to pressure industry to consider alternative options to landfill, the money needs to be directly reinvested in reduction and recycling projects so all options can be explored.
Although a lot of hurdles were created when China tightened its contamination restrictions, Christian sees a bright future ahead for the burgeoning Australian waste and recycling industry.
"This is the single greatest opportunity Australia has had to boost the sector – ever."
(Repurposed for use from Waste Management Review 'Green Eyes' Article April 2019)