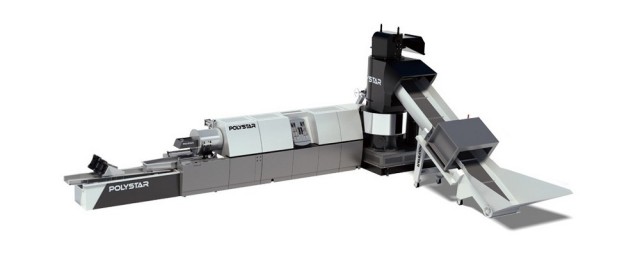 Polystar's high efficiency Repro-Flex is made to be the world's simplest operation system. This one-step plastic recycling machine is designed for the reprocessing of polyethylene (HDPE, LDPE, LLDPE) and polypropylene flexible packaging material, printed and non-printed.
Used in more than 102 countries worldwide, this cutter integrated pelletising system eliminates the need of pre-cutting the material, requiring minimal space and energy consumption, while producing plastic pellets at a productive rate.
The machine aims to have an output that is 20 percent higher than traditional feeding methods, with 10 percent less power consumption.
Besides post-industrial waste, the system is also able to process blown and cast film producers (HDPE, PP shrink, stretch film), raffia and woven (PP woven bags, non-woven, jumbo bags) and rigid regrind (bottles, pipes, containers).
As such, the Repro-Flex is highly recommended for packaging film producers of commercial bags, garbage bags, agricultural films, food packaging, shrink and stretch films, as well as producers in the woven industry of PP woven bags, jumbo bags, tapes and yarns.
Other types of material, such as PS sheet, PE and PS foam, PE net, EVA, PP mixed with PU, are also applicable on this machine.
The Repro-Flex is very easy to install, operate and perform maintenance, and the fast change between different types of material maximises its efficiency.
Another advantage of the machine is that it produces pellets that can be put directly back into the production line, in most cases for blown film or pipe extrusion processes.
The Polystar Repro-Flex is an ideal solution for producers looking for a high quality and durable plastic recycling machine at a lower investment cost. It is also 100 percent customisable, and offers  different degassing and filter options, including triple degassing to remove ink and extra humidity from the material, a dosing device for colour masterbatches and compounds added during the process, filter re-positioning prior to degassing for higher quality pellets and an unvented extruder to ensure minimal change in material property and a higher output. Its personalised design also allows it to meet your requirement and factory layout.
Applied Machinery is proud to be an exclusive distributor for Polystar equipment in Australia. For more information on Polystar's recycling line, please contact us today at (03) 9706 8066 or email sales@appliedmachinery.com.au.