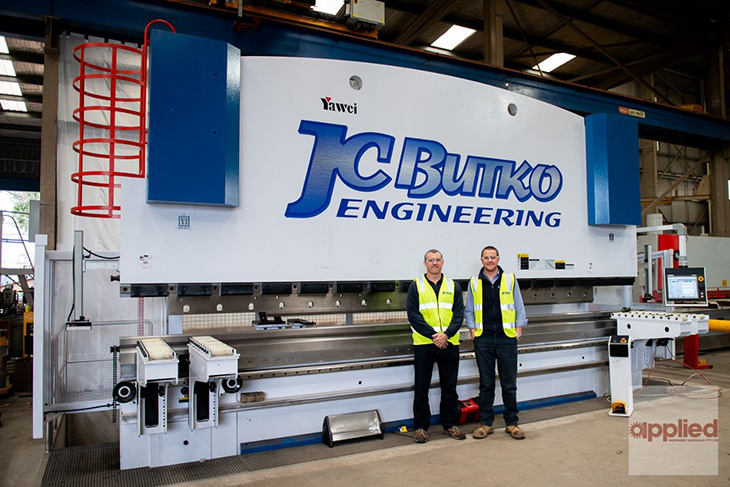 JC Butko Engineering Pty. Ltd., located in Wodonga, was established in 1976 by John and Carolyn Butko. Employing 128 tradepersons and 30 contractors, the company's expansion – particularly over the ten years – has seen its factory grow to the present size of 7000 square metres (with an additional 450 square metres of Administration area). With an average annual turnover today of $35,000,000, it is now the region's largest general engineering company.
Born to Ukrainian immigrant parents, John Butko was apprenticed as a fitter and turner in Melbourne before returning to Wodonga and joining Milos Metrol & Sons. In 1972, John was named as Albury/Wodonga's top apprentice. Soon afterwards, he rented a small shed in Kendall Street, Wodonga, and invested heavily in machinery – including a lathe, guillotine and a set of rollers – and the rest is history.
JC Butko consists of boilermakers, sheet metal workers, pipe welders, fitter/machinists and apprentices. The management team comprises Project Managers, Mechanical Engineers, Certifying Engineers, Project Supervisors, Estimators, Drafting Personnel, Quality Assurance, Health Safety and Wellness and Administration.
Recent growth has come about as a result of working on larger projects throughout Australia (mostly the East Coast) and overseas (including the USA, New Zealand, and Papua New Guinea).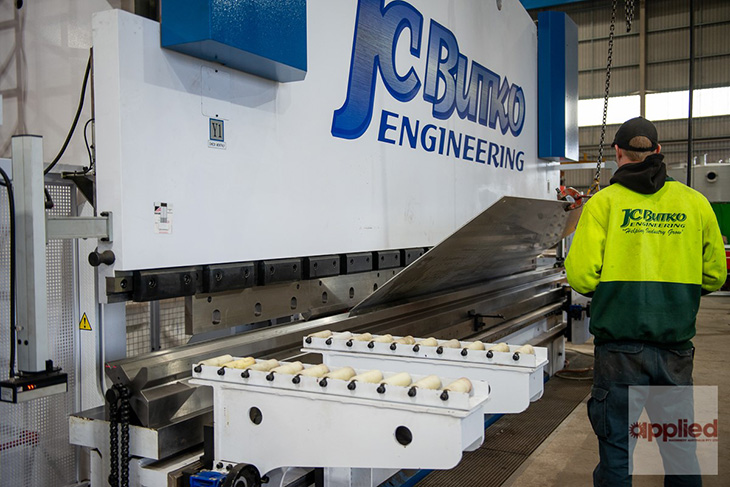 The company is certified to ISO 9001-2008 Certificate No QUE10764 by SAI Global and have successfully maintained this accreditation since 1998. Furthermore, they are also certified to AS/NZS ISO 3834 Certificate 044 in accordance with the IIW MCS scheme, and are accredited members of ASSDA (Australian Stainless Steel Development Association) and RMS prequalified.
Paul Butko, son of John, is the company's Commercial Manager and has worked with the company for the past seven years. He previously worked for 5 years in construction with Lend-Lease, which was excellent grounding for his current role in the business. A true family business, Paul's brother Michael is the Director/Engineering Manager who has been with Butko for the past 14 years. "My parents and brother, along with the support and dedication of current and previous employees have done an amazing job to get the company where it is today; I can't reinforce that enough," Paul praised.
The company undertakes diverse projects including large structural steel, tanks, pipe spooling, conveyor systems, food/materials handling systems and pressure vessel work in either mild steel or stainless steel.
"Our work is a 50/50 split between mild and stainless steel as well as a 50/50 split between fabrication and site installation," Paul explained. Tanks and pipes are the company's forte and they also work with water, food production and dairy amongst other areas.
MARS Petcare and MARS Chocolate, Lend Lease, GrainCorp, John Holland, CPB, Thales, Visy, Nestle, Orora Paper, Terminals, Norske Skogand Thales are Butko's biggest clients. Major projects undertaken include the GrainCorp Oil seeds refinery at Numurkah (ongoing), the Mars Petcare Single Serve & Hydro Upgrade (completed in 2019) and the Lend Lease MRP Project (completed in 2017). At the end of the year the company will have a fully dedicated mild steel and stainless steel factory. These will operate separately to each other but will be situated in the same location.
Butko prides itself on its one-stop-shop service from design through 3D modelling to installation and ongoing maintenance. "This is our bread and butter," Paul assured. "We work with clients from the beginning to end of a project, providing a sense of reassurance," he added.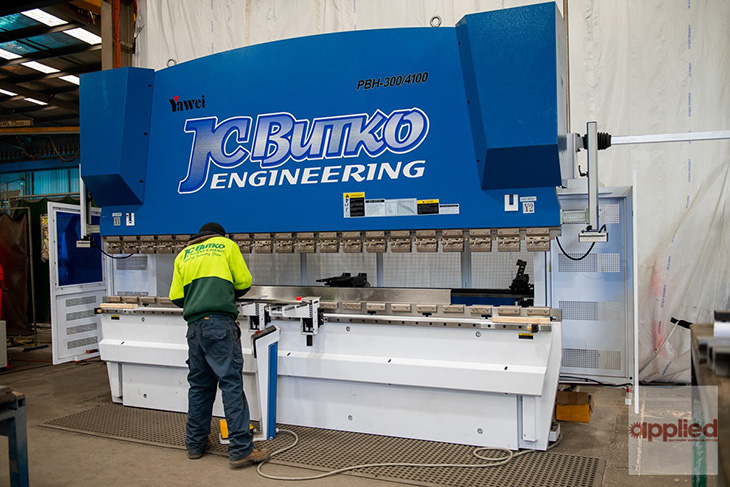 JC Butko wanted to increase their work capacity and scope. They had heard about Yawei Pressbrakes through a service contractor, who was performing maintenance on their existing equipment. Yawei is one of the world's leading manufacturers of CNC pressbrakes, fiber lasers, turret punch presses and guillotines. Since its inception into Australia over ten years ago, Yawei's Pressbrake technology has made a big impression. In fact, over 300 machines are now installed across the country with Australian fabricators.
Although they had been looking at a few other manufacturers, the Yawei Pressbrakes impressed them immediately. As a result, Paul purchased a PBH 630-6200 CNC5 and a PBH 300-4100 CNC7. Their 630 ton pressbrake is responsible for larger projects whereas their 300 ton machine provides intricate high-precision work.
The machines have made a good impression on the operators. "After a few months in use, we have found them to be solid, reliable and good to use," Paul praised. "They are also very user friendly, and are value for money," he continued.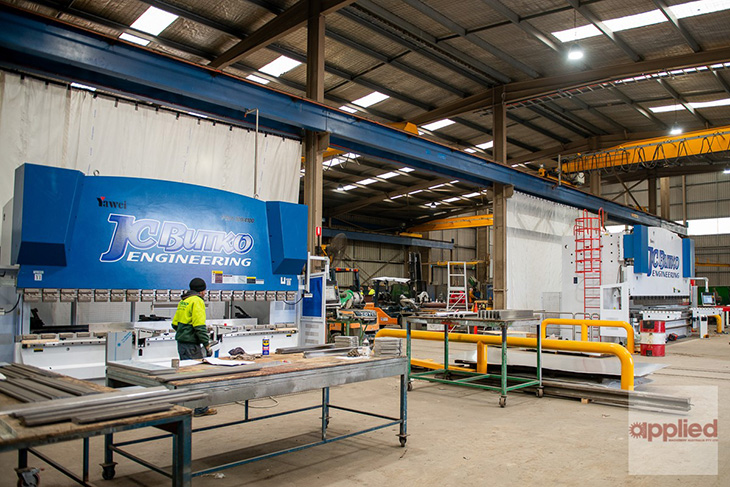 Applied Machinery played a major role in Butko's decision. "We wouldn't have purchased the Yawei machines without Applied Machinery's advice and assistance," Paul explained. Furthermore, Applied has provided training to staff operating the machines and provides service and assistance where necessary. "The service we receive from them is crucial and we are grateful for it; the machines have allowed us to get more work so we can thank Applied for that," he added.
JC Butko Engineering was awarded with the Thales Australia Supplier HSE Award, in recognition for the outstanding achievements of the Butko Thales Team, and their collaborative and proactive approach towards improving HSE culture at the Mulwala Facility. In addition, founder John Butko was named 2016 Albury Northside and Wodonga Chambers of Commerce hall of fame recipient.
Paul is optimistic about the future of JC Butko and what it holds. "We just want to keep consolidating what we do," he summed up. "We want to continue to offer a complete service that makes our clients and customers happy," he concluded.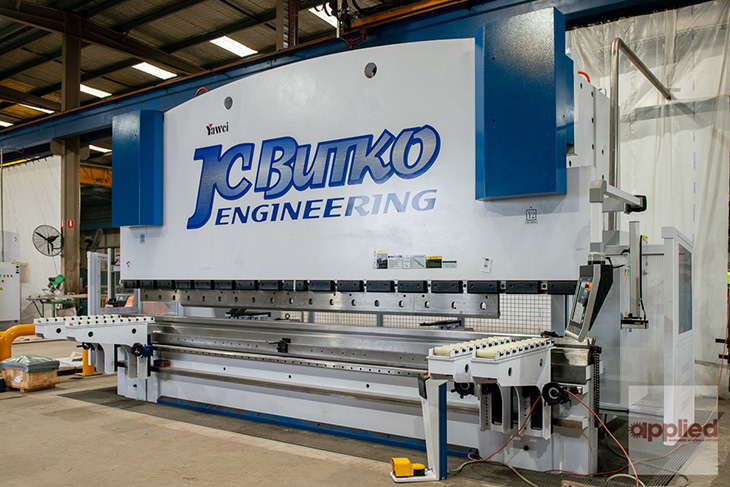 Applied Machinery is one of Australia's most experienced technology suppliers in the Sheetmetal machinery, Engineering, Recycling & Plastics sectors. In addition to Yawei, Applied also represents Genox, Hurco, Kitamura, Chen Hsong, Alfarobot, Hermle, Akyapak, Hyundai-WIA, Weber and Fimic.